Vindictive Drive
A downloadable NEET Abomination. for Windows
Story/Summary:

Vindictive Drive is a Thriller/Action game with Real Time Action/Stealth mechanics following Arris Fern, a young woman in her cold blooded revenge against her father, the president of the most powerful nation, for the assassination of her mother 12 years ago.
Completely consumed by hatred and resentment, Arris will use the most cruel methods at her disposal to achieve her goal.
Features:
Vindictive Drive's "battle system relies on outsmarting security systems, avoiding cameras, and fooling your enemies using your computer and jamming devices, leaving the pistol as last resort.
Stealth is an important part of the game, you will be able to disable alarms and create distractions.
Story rich scenarios and suspense.
A lot of illustrations and animations made frame per frame.
Multiple endings.
Helper robots you can choose depending on your gameplay preferences
UPDATE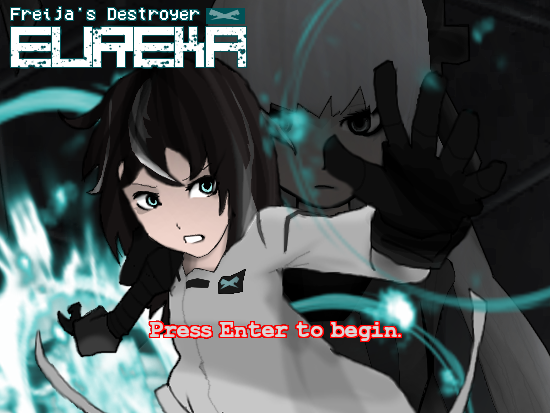 Itch.io version now contains the Definitive Version of Vindictive Drive, which was only available on Steam until now, this version upgrades graphics, adds more of the story, fixes bugs and contains "Freija's Destroyer Eureka", a bonus game set 10 years before the main events in Vindictive Drive.
Facebook Page: https://www.facebook.com/balthasar02/
Youtube channel: https://www.youtube.com/channel/UCyEEDSMoo61vt7UXY...
Purchase
In order to download this NEET Abomination. you must purchase it at or above the minimum price of $2.99 USD. You will get access to the following files:
Vindictive Drive Definitive Version
Comments
Log in with itch.io to leave a comment.
I loved this, I hope to see the final update soon, I loved Eureka.
Has the game been released on stam yet, i have not found it on there. If it is, do I buy it off steam or will i be able to get it here?
Hello! Only the early access version has been released, which includes content up to chapter 6. The full version(10 chapters) will probably come out this month, I will send you a copy when it's out! Is there an email or anywhere I can contact you?
Yes, I do have an email which i check often. It's john.konradsson32@gmail.com. Please send me the copy when it's out, I love the story and want to see how it plays out :D
When I go to download this game, which I purchased from groupees, from itch.io it says vindictivedrivedemo? Why does it say demo? I presume I'm not getting the Early Access Version?
Supposedly you are suppose to get access to the Early Access Version? Is the Early Access Version really just the Demo?
Also just to be clear, I presume groupees purchasers eventually get the full version when it is completed, right?
You'll receive an access to full STEAM version from Groupees when it will be available :) As for Itch - there's some bugs around, even game name periodically displayed incorrectly.
No offense, but who are you and what connection are you to this game's development or publication? I was expecting a response from an official person (such as Balthasar02 who is the game's developer). I would like to know who you are, and if you are an official person.
If you are not an official person with this game, then could I please get a response from an official person, such as Balthasar02.
Hello Onlineguy, I just recieved your messege to my blog and noticed the comment here...sorry for the inconvenience, Pinkerator is part of this project; his answer is official, I should have been clearer about this.
Pinkerator responded because he's been on itch longer than me and knows more about that specific issue.
Thanks for clearifying it for me. I was concerned it was just a regular user responding. But I'm still confused about whether the download is just the demo at the moment or is longer then the demo? When we download the early access version, is it just a 20 minute version of the game or is it more then that? Been downloading other things, and haven't downloaded it yet, so thats why I'm asking. Also I'm on slow broadband (only 1 mbit connection), so it takes me a while to download everything.
Yes...currently the only available download is the version you've had access to, I'm very sorry for the confusion, I'll get it fixed asap. I'm having some problems with the site...
Thank you for your patience and making things a bit clearer for me too.
I absolutely love this game. Nice work (^^)b
I can't wait for it to be updated! What choice did you make? Kill or not kill Frankie?
Thank you so much for your support! I'm glad you like it, killing Frankie will only result in a different cartridge, which doesn't mean much in the demo, but it will open different branches later. Personally I'd choose to kill him.
Have a nice day.
I really like that the choises made will affect the story, and so i can use the many save slots to save before a choise is made. I chose Frankie to kill after replaying many times and trying to find the best choise to make. Is there any way to have the site inform me about any updates or does that happen automaticly? Thanks in advance :D
Hello, sorry for the late answer, I completely missed the notification. Well, if you follow this page you should be notified when the update comes, but I will send you a messege when the time comes.
Thank you so much for your support!
Thank you :D But one question. Why is the girl from War of existence, Azul?, in the game files of Vindictive drive?
I gave your game a go....
Thank you so much for playing it, it was fun to watch! It's always possitive to find feedback from people playing in real time, I'm going to share it with my team and followers in my blog. Have a great day.